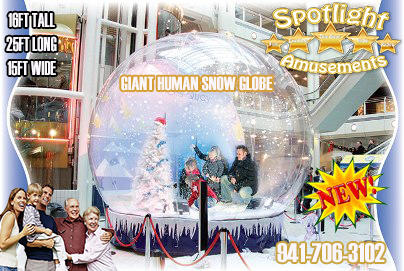 16ft Giant Human Snow Globe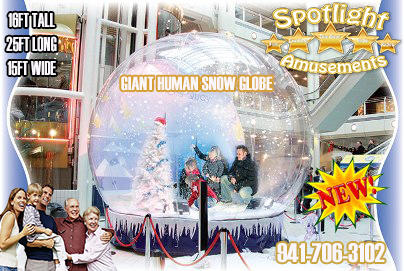 Giant Human Snow Globe Rentals for any event!
Human scaled Giant Snow Globe is new to many…unique rather. To watch a 16ft tall snowman in a globe with a blue and white scarf and a Christmas tree or any decorations that you want . People at shopping malls, museums, or theme parks simply adore it. Some of you may even try to shake it. and want it at your School, Church and Corporate events.
Exciting, isn't it
Human Snow Globes: Where Can We Find Them?
People do rent giant snow globe for parties and special events to turn them spectacular. However, they can also be used as center of attraction at the following:
Malls
Museums
Amusement Parks
Any festivity or holiday times
Factually speaking, it's an ornamental, holiday-décor-type item you would like to cuddle. Having a snow globe from
Spotlight Amusements puts people in a festive mood. At holiday times, generous and giving people in the US wait anxiously for their turn to get their dear ones clicked in the globe.
When waiting to be PHOTOGRAPHED with the Spotlight Amusements human globe, you won't notice how long you stood there. It's an entirely different world among the tinsel, piped carols, and Christmas cards. You turn the glass globe upside down over and over again and watch the snow scatter, fall, and settle down. At that point of your life you will reach some other world. It looks very beautiful; that is why it excites people to take pictures. If you happen to see this human snow globe, you will see a huge crowd; some will be fighting to come toward the front for getting a clear vision. Seeing the crowd, you'll get an idea of its popularity.
A life-size snow globe 16ft Tall 25ft long 15ft wide can add a pinch of novelty to your Take a look at our Snow Slides it's the only two lae Snow Slide in Florida!
They can do so by the spacious snow play area within. It is intriguing for people to enter and be inside the globe. Being higher up off the ground than the spectators outside electrifies them. Just watch the snow being thrown up, flying in the air, and lastly falling and flowing everywhere. What a real feel! It's the funniest, silliest, and most harmless fun one could ever think of. Truly a "magical feel-good festival experience"!
Helping You Create Your Own Winter Wonderland with Snow Slides and Human Snow Globe, Snow blowers and more!
Spotlight Amusements is your one stop for your next event.

Call and Book you event today 941-706-3102