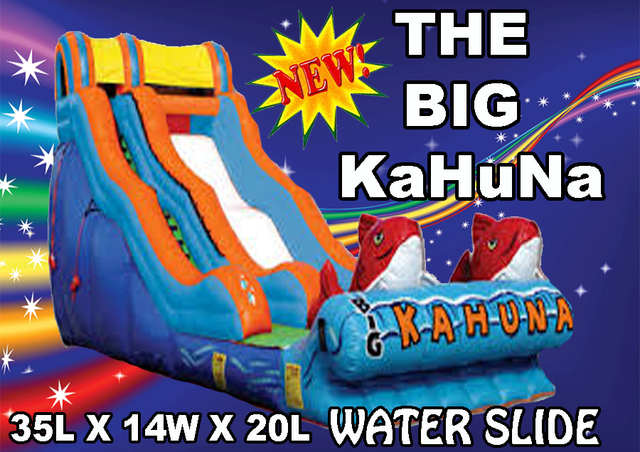 The Big Kuhuna Dry Slide
Your Super Fun Water Slides in Sarasota


The BIG KAHUNA has arrived and is sure to be a popular water slide rental this summer. There's simply no better way for kids to be active, have fun and beat the heat this summer, than on our super fun and super kool "BIG Kahuna" inflatable water slide. A misting hose will keep the slide surface slick and fast, and a splash landing area at the base will refresh and cool everyone on even the hottest of summer days.

Requirements: The set-up location must be relatively flat, large enough to accommodate the slide with at least 2 feet on all sides and clear of trees and overhead wires, within 100 feet of a standard electrical power source, able to be connected to a water source via a regular garden hose, and accessible via a minimum of a 3-foot wide space from the driveway/street.


Inflatable water slide rentals are a great addition to any kids party, especially on those hot and sticky days of summer. We deliver our Super Fun Inflatable water slides, bouncy castles, Carnival Rides and obstacle courses to all to all towns in Florida.